Notice of Third-Party MOVEit Data Breach:
A cybersecurity vulnerability with third-party software provider, MOVEit, has impacted thousands of companies, including Guardian Mortgage.
Learn More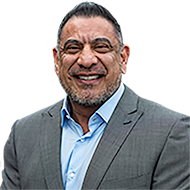 Jose
Gutierrez
Mortgage Loan Originator
NMLS# 2453618
239 W. Main Avenue
Suite 100
Spokane, WA 99201
509.290.8357
[email protected]
Download the My Guardian Mortgage Mobile App


(Opens in a new window)
Jose Gutierrez
As a U.S. Army Veteran and former post-secondary education professional, Jose Gutierrez gained the many skill sets required to successfully help borrowers understand and close on their home loans. Now as a Mortgage Loan Originator for Guardian Mortgage, Jose brings his talents for listening, educating, and taking action to his clients' home-buying process.
Jose prides himself on continual learning. "I desire to be better today than I was yesterday," says Jose. "I want to learn as much as I can. To be a sponge and apply those skills to contribute to the ongoing success of my clients and team."
Throughout the home-buying journey, Jose works closely with his clients to help them understand the loan process and next steps. He is bilingual in Spanish and English and applies his competitive nature to help clients find the best loan for their needs.
Jose enjoys serving as a good role model for his children, golfing, wakeboarding, and working out.
My Customers Have Spoken:
The Service is good
Birhane
WA
September 21, 2023
Jose was there to answer all of my questions, I felt very supported through out the whole process.
Heather
WA
September 19, 2023
When everything was all said and done, Guardian went above and beyond to make us feel taken care of! We are super happy with our home and experience.
Matthew
WA
August 08, 2023
Jose provided good communication with quick responses and appeared to put a great deal of effort into getting things out together for me.
José was such a pleasure to work with. He was always helpful and knowledgeable. There was rarely a time when I would have to leave a voice mail because he was that committed! He's wonderful!
Jose Gutierrez has been a great help and resource for our clients Mortgagee needs. Professional, Knowledgeable and just an overall great guy are some of the kind comments that have came directly from our clients after their experience with him.
Always willing to help
Josefina
WA
March 19, 2023
great communication and friendly
From day one, Jose was very courteous, thorough, and professional. He kept me updated daily on the status of the loan. When I needed to provide more information or clarification on the loan application, he would explain every step, with the clear reason why before I would even ask. Jose was very customer oriented, and I felt very comfortable and satisfied from start to finish. He made me feel like more than just another loan applicant. Great Job!
Vincent
NM
March 05, 2023