Notice of Third-Party MOVEit Data Breach:
A cybersecurity vulnerability with third-party software provider, MOVEit, has impacted thousands of companies, including Guardian Mortgage.
Learn More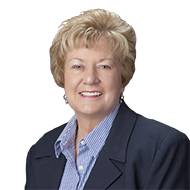 Robin
Leighty
Mortgage Loan Originator
NMLS# 591600
201 E Main
3rd Floor
El Paso, TX 79901
915.701.3502
[email protected]
Download the My Guardian Mortgage Mobile App


(Opens in a new window)
Robin Leighty
Robin Leighty joined Guardian Mortgage in 2017 as a Loan Originator in the El Paso, Texas location. She brings with her more than 15 years of experience in the mortgage industry. Before coming to Guardian, she worked for many years on the retail bank side. Robin explains the secret to her success, "No matter how I feel, I get up, get dressed and get going! I return all calls the same day, and I also work weekends to help each client of mine."
Guardian's commitment to success aligns with the quality of service it offers its customers. The level of excellence in training and processes combined with the best-in-class service attracted Robin to the company. When asked why she enjoys the mortgage business, she replied, "I'm passionate about helping others achieve their dreams and goals of homeownership. I make it a priority to make myself available to my customers as needed and reassure them that I am their partner and educator in the home buying process."
When she's not at the office, Robin enjoys spending time with her wonderful family, circle of friends and her two beautiful Boxer dogs named "Pickles" and "Sandy." Robin lives by the saying, "the best is yet to come."
My Customers Have Spoken:
Very pleasant and expedited service
Less complicated
Russell
TX
January 01, 2023
Robin made entire process stress free and smooth. Her calming demeanor, knowledge and responsiveness gave me confidence that we could complete the purchase of our dream home in time despite the housing market challenges we faced. Thanks Robin!
Javier
TX
December 01, 2022
Robin was always available, quick to respond, and very patient with me as a first time home buyer.
Miguel
TX
August 09, 2022
Robin was knowledgeable, supportive, and always available throughout the whole process.
ROBIN LEIGHTY MADE IT GREAT
Paul
TX
December 14, 2021
She went above and beyond to help me with everything.
Leana
TX
November 14, 2021
Robin Is always available to discuss all aspects of the loan , thank you Robin
Arnaldo
TX
September 06, 2021
It was a overall great and pleasant experience.
On point Answered and solved all my questions Communication On time with paper work. Honest.