Notice of Third-Party MOVEit Data Breach:
A cybersecurity vulnerability with third-party software provider, MOVEit, has impacted thousands of companies, including Guardian Mortgage.
Learn More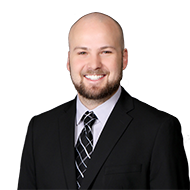 Trevor
Cooper
Mortgage Loan Originator
NMLS# 2311609
835 N. Post Street
Suite 202
Spokane, WA 99201
509.481.3110
[email protected]
Download the My Guardian Mortgage Mobile App


(Opens in a new window)
Trevor Cooper
Trevor Cooper was led to the home loan and mortgage industry by a family member who saw his aptitude for helping people.
Working as an ER department nurse for years, Trevor has always utilized his empathetic side in his career. The move to the mortgage industry meant the opportunity to help people at a major life junction. Trevor says, "Being able to ease the stress of such an exciting process is what excites me most about the industry."
Dedicated, consistent, and caring, Trevor goes the extra mile for his customers, answering calls and emails even in off-hours. Trust is an important factor in client relationships. Your clients need to feel comfortable asking questions and knowing they will get an upfront and honest answer. "I help my customers by finding them the best possible option when it comes to a home loan, even if it requires extra steps," Trevor says.
When he's not working, you'll find Trevor spending time with family and friends. He also loves playing golf and watching sports. Reach out to Trevor for your home loan needs.
My Customers Have Spoken:
Trevor was accurate, professional, and very experienced. I would highly recommend him to anyone looking to invest in the real estate market.
Karsten
WA
September 25, 2023
Trevor is a great Mortgage Loan Originator!! He kept me fully informed throughout the loan process and promptly responded to all my questions. He is very knowledgeable about the industry and I appreciated his advice and insight regarding my personal situation. Trevor also has a friendly, calm and pleasant demeanor that made an already positive experience even better. I thoroughly enjoyed my dealings with him and would not hesitate to use him again!!
Our encounter with Trevor was absolutely phenomenal right from the start. His genuine commitment to assisting you in discovering your permanent residence is truly commendable. He consistently exhibited prompt responsiveness to any inquiries that arose. Furthermore, even when faced with unfamiliar questions, he exerted maximum effort to source information or facilitate solutions. Should we decide to acquire another home, Trevor would be our top choice. We hold immense appreciation for all that he has accomplished on our behalf.
Yajaira
WA
August 18, 2023
Trevor made the home buying process as smooth as it can be. He communicated thoroughly the whole time. Him and his team found creative avenues to help make this more affordable which was extremely helpful in todays current market/economy. He went to bat for us with anything that arose. On top of all this he was very happy to help while cheering us on. I would recommend Trevor to anyone who is looking to purchase a home. He is the definition of service before sales and what a quality lender is. Thanks for everything Trevor!
Getting to work with Trevor Cooper was a great experience for numerous reasons. Anytime we had a question we could send it his way day or night. He got back to us with answers super fast. Anything we didn't understand Trevor would walk us through the information in a way that we would understand. He is very knowledgeable. He was and continues to be so helpful and patient with all of our questions that we send his way. The experience we have had with Trevor Cooper has been amazing and he will definitely be someone we brag about and recommend for all our friends and family for years to come.
Simple, clear, excellent service and availability. This in addition to Trevor being a great person all around.
Trevor is an awesome communicator. Always kept me up to date and explained every situation even if it was a small one. He also saved us money in any way he could; as a small family buying our first home that was essential. Can't recommend anyone better!
From start to finish Trevor did an amazong job of responding quickly and accurately to any questions or concerns I had. He did very well at communicating everything that was happening in real time and worked hard to get me into my house as smoothly and quickly as possible. I would recommend his services to anybody I know and plan to work with him if i ever go through this process again in the future.
I've known Trevor since kindergarten and it was an obvious choice for us to choose him as our lender. He's incredibly knowledgeable, friendly and really cares for the people he's helping! He answered every question I had at every time of day, and took our specific needs and timeframe into consideration for every decision made. If you need a friendly face to help you through your journey, Trevor is your guy!
Trevor was so amazing! He walked us through the entire process and was with us every step of the way. His communication is great. He was able to answer any questions we had and let us know exactly what was happening as soon as it happened. He was so patient with us and was so kind and supportive! He was also able to get us the best loan deal and interest rate! I couldn't have asked for a better person to handle my loan! Thank you Trevor!!!
Sonya
WA
December 24, 2022