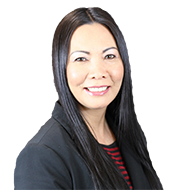 Trinh
Nguyen
Mortgage Loan Originator
NMLS# 892077
17150 University Avenue
Suite 201
Sandy, OR 97055
503.558.7289
[email protected]
Download the My Guardian Mortgage Mobile App

(Opens in a new window)
Trinh Nguyen

Trinh Nguyen joined the mortgage industry in 1995 and has been driven ever since to provide her clients with the best loan products and customer service available. Her passion lies in helping clients fulfill their dreams of homeownership, whether they are first-time homebuyers or investors. She understands they both want to fulfill a similar dream: real estate investment.

"I was introduced to the industry when I bought my first home," says Trinh. "As I was obtaining my home loan, I realized that there was a need for mortgage loan officers who provided consulting, education and connected their clients to the right products for their needs."

Trinh's clients appreciate her ability to understand their financial and housing goals and help them find the right loan product to make those dreams a reality. At Guardian Mortgage, Trinh gains access to a wide range of loan programs and products to fit her clients' varied situations.

When she is not working, Trinh enjoys cooking and spending time outdoors. You'll often find her in the garden, out for a walk, or camping, fishing and crabbing in the summer.