If you're ready to buy a home, it doesn't matter if you're moving out of your parent's basement or upgrading from apartment life, you're going to have questions. One of the most common questions from first-time buyers pertains to the difference between an FHA and a conventional loan, and which one is best for them. Below, we'll clearly define each one and go into further detail about which one might be best for you in your pursuit of purchasing a home.
What is a Conventional loan?
Conventional loans(Opens in a new window) aren't insured or guaranteed by the government, they're insured by private lenders. To qualify for a conventional loan you need a higher credit score, a low debt-to-income (DTI), and a down payment as little as 3%.
What is an FHA loan?
An FHA loan(Opens in a new window) is a government-supported home loan that is insured and guaranteed by the government via the Federal Housing Administration (FHA). An FHA loan has less-restrictive qualifications, which can make it a good choice if you can't make a large down payment, have a lower credit score, or both. FHA loan down payments can be as low as 3.5% for first-time homebuyers.
Credit Score and DTI Ratio Requirements
Both FHA and Conventional loans have a minimum credit score requirement of 620. And their DTI ratios are subject to AUS approval, as that will determine DTI limits.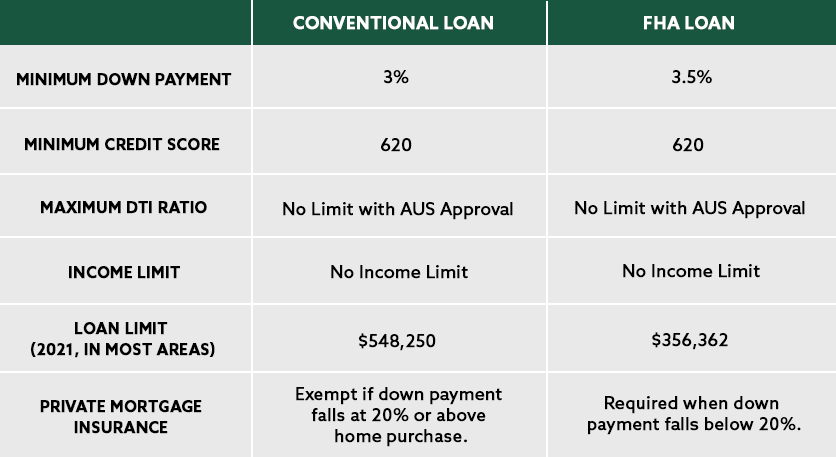 FHA vs. Conventional
Mortgage Insurance
For buyers not making a 20% down payment, the non-optional private mortgage insurance (PMI) premium is calculated in their monthly mortgage payment estimations. PMI(Opens in a new window) protects your lender if you stop making payments on your loan. The specifics to PMI change based on your loan type, so it's important that you have open conversations with your mortgage loan originator about this (advice that applies to either type of loan).
Mortgage Rate Trends
A conventional loan conforms to established guidelines for the size of the loan and your financial situation. Conventional loans may feature lower interest rates than other types of loans, such as an FHA.
Mortgage Payments Comparison
As your credit score increases, conventional loans become more attractive. As your mortgage rate drops, your monthly payments and PMI costs drop as well. However, with an FHA loan, your mortgage rate and PMI cost the same, regardless of your FICO score. In the short term, FHA loans often offer a lower overall monthly mortgage payment. But over the long-term, borrowers with higher credit scores will typically find conventional loans more economical than FHA.
Some Common Questions
When is an FHA loan the right choice?
FHA loans can be a great option for prospective homebuyers who are at the beginning stages of their financial journey, and looking for an investment that will fit into their current budget and qualifications. A common misconception is that an FHA loan is only for first-time homebuyers, but that is not true.
What are the benefits of a conventional home loan?
A conventional loan is a great option if you have a higher credit score and a lower DTI. You can avoid PMI with a 20% down payment, which will lower your monthly mortgage payments. If you're unable to make a larger payment upfront, conventional loans are also available with a down payment of less than 20%. Borrowers, more often than not, end up saving money in the long run with a conventional loan because there are no upfront mortgage insurance fees, and monthly insurance payments are smaller. (We feel compelled to mention here that, at Guardian, we have loan programs that have no PMI with as little as 15% down.)
Is there a difference in what type of home you can buy?
Both conventional and FHA loans can be used for the purchase of single-family homes, multi-family homes, condominiums, and certain manufactured and mobile homes. There are also specific types of FHA loans, based on your lender, which can be used for new construction or home renovations. If you are choosing to purchase a second home with a conventional loan, you will need to put at least 10% down.
FHA and Conventional loans are two of the most common mortgage types in the United States. Ultimately, deciding on which one is right for you requires taking an honest look at your current financial situation. If you're a first-time buyer with a young credit history and can't afford a large down payment, an FHA loan is likely best for you. On the other hand, buyers with excellent credit, strong financials, and a decent payment will find the conventional loan to be more favorable. As you consider the options, you don't need to make this decision by yourself. Our team of professionals are here to help you weigh those options and determine which loan is the best fit for you. Contact us today.
Certain eligibility requirements apply to manufactured housing. Program available only to qualified borrowers. Certain terms and restrictions apply. Program subject to change without notice. Underwriting terms and conditions apply. Loan subject to credit review and approval.
CONTACT A LOAN EXPERT