Notice of Third-Party MOVEit Data Breach:
A cybersecurity vulnerability with third-party software provider, MOVEit, has impacted thousands of companies, including Guardian Mortgage.
Learn More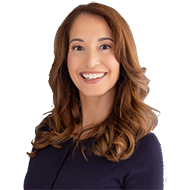 Ariana
Aiello
Mortgage Loan Originator
NMLS# 218369
5090 N 40th St.
Suite 100
Phoenix, AZ 85018
602.616.3281
[email protected]
Download the My Guardian Mortgage Mobile App


(Opens in a new window)
Ariana Aiello
Ariana Aiello joined Guardian Mortgage as a loan originator with 24 years of experience. She has helped thousands of homebuyers with their financing needs. Ariana is proud to call her clients lifelong friends. She states "I strive to make the home buying process painless and a very positive experience from beginning to end!" Ariana believes being a loan originator is the perfect career choice for her because of her love for finance and helping people.
When not working you will find her hiking a mountain, in a yoga class or spending time with family and friends.
My Customers Have Spoken:
Ariana is knowledgeable, has great experience and the kind of tenacity that is needed in this process. She was great throughout this process.
John
NM
September 15, 2023
Ariana is friendly, communicative and knowledgable at navigating all facets of the loan process. She worked efficiently and positively with our realtor in another state to make certain our home buying process went smoothly. We are so happy Ariana has been with us through two home loans!
Ariana has a great personality! So easy to talk to and she obviously knows her business extremely well. It's nice and puts you at ease when you're working with someone who has more than 2 decades in the business. She was very pleasant and easy to work with and took the time to explain and go over the loan process with me on more than one occasion. She's very patient and empathetic too and I believe she really cares about her clients. To find someone with those qualities is almost unheard of in this business, or any business these days and I was very happy my friend referred her to me! Thank you so much, Ariana!
Ariana was great to work with! Super communicative and helpful for our questions.
Scott
AZ
February 14, 2023
Ari was kind and communicative the whole way through. We are so grateful to have worked with her!
Emily
AZ
February 10, 2023
Ariana was very helpful in explaining the mortgage loan process and was there to answer all my questions along the way.
I have worked with Ariana for many years and her service level is top notch. I highly recommend anyone looking to buy or refinance a home to explore using Ariana. You won't be disappointed.
William
November 17, 2022
Ariana and her team were amazing! After talking with many lenders it was clear that Guardian Mortgage had products that other lenders didn't offer. Ariana held my hand through the entire process.
Arianna was amazing. The underwriters were awful. I almost canceled with your company because of them. I understand their process and scrutiny, but well qualified customers such as myself shouldn't have to jump through so many hoops. And once I provided them with the requested information, it just wasn't good enough, and they asked for more. Tedious and overwhelming.
Todd
AZ
November 05, 2022
Ariana's experience and expertise. Her guidance was valuable and important in order to close our transaction.
Polly
AZ
November 03, 2022