Notice of Third-Party MOVEit Data Breach:
A cybersecurity vulnerability with third-party software provider, MOVEit, has impacted thousands of companies, including Guardian Mortgage.
Learn More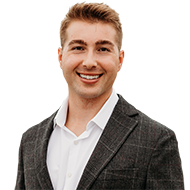 Connor
Morris
Mortgage Loan Originator
NMLS# 2230521
2701 Dallas Parkway
Suite 180
Plano, TX 75093
407.234.2100
[email protected]
Download the My Guardian Mortgage Mobile App


(Opens in a new window)
Connor Morris
Whether at work or in the gym, Connor Morris is no stranger to reaching his goals. And he's committed to helping his clients reach theirs.
Connor's passion for helping and inspiring others to achieve their goals and live the life they desire is evident in his work as a CRA mortgage loan originator. Through education about the mortgage process and housing market, he works to ensure clients achieve their home ownership goals eyes wide open. His clients appreciate that he takes the time to answer their questions and explain the ins and outs of the loan process throughout their homeownership journey.
"My philosophy is 'Choose your hard.' I find doing the hard things in life are often the most rewarding," says Connor.
When he's not at work, Connor is pursuing his fitness goals through weightlifting and running. He's currently training for an ultra-marathon.
Awards & Achievements
Xinnix Certified Originator
My Customers Have Spoken:
Communication is very important to us and Connor made sure to exhibit that since day 1.
Shana
TX
September 17, 2023
Connor made the whole process much easier.
Oscar
TX
September 11, 2023
Connor and his team were great! Thank you for helping my family with our new home!
Hassle free and relatively no work on my end.
Consistent communication, the sound advise, the open input from his expertise , his knowledge of his profession
Connor & Jed- Their patience, their respect and the clear explanations when questions arose are the reason this experience is rated as great.
Connor was so responsive and always answered my questions quickly. Buying a home is a stressful time and he made it so easy.