Notice of Third-Party MOVEit Data Breach:
A cybersecurity vulnerability with third-party software provider, MOVEit, has impacted thousands of companies, including Guardian Mortgage.
Learn More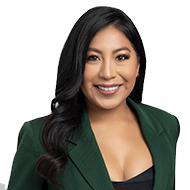 Daisy
Ramirez
Mortgage Loan Originator
NMLS# 1850335
9601 McAllister Freeway
Suite 1105
San Antonio, TX 78216
830.837.1614
[email protected]
Download the My Guardian Mortgage Mobile App


(Opens in a new window)
Daisy Ramirez
Daisy Ramirez began her career as a loan officer assistant, learning the ins and outs of the loan process, before becoming a mortgage loan originator.
Her positive attitude, team focus and bilingual language skills, help her meet her client's needs through active listening, education and problem-solving.
"I'm passionate about helping families that may struggle with language barriers obtain homeownership," Daisy says. "Communication is key and I'm always available to my clients, whether that be in person, via text, email or FaceTime."
Daisy works with clients to help them determine the best mortgage solution and most competitive rates for purchasing a home. With the ability to speak fluently in both Spanish and English, she works with a variety of clients to gain the financing they desire.
When she is not helping families achieve their goals of homeownership, Daisy enjoys spending time with family and friends. She finds joy in outdoor activities and discovering the latest in beauty and fashion.
My Customers Have Spoken:
Daisy had great communication updating us every day with the proses of the loan she even showed up on closing day with gifts ☺️ we will definitely be recommending her!
Omar
TX
September 21, 2023
Ms. Daisy helped us with the process of buying a new home, made it very pleasant and communicated very well with us. She is the BEST!
Lorena
TX
September 19, 2023
Daisy helped me a lot with getting my house & answered all the questions I had. She was very nice.
Marisa
TX
September 07, 2023
From start to finish everything was great
because it will help us in everything
The fact that Daisy was on top of things and frequently contacting me
Good information.
Crystal
TX
April 27, 2023
Daisy was very helpful in my transition and kept me up to date on everything that was going on. I'm very appreciative of all her help.
Charles
TX
April 19, 2023
Daisy went above and beyond helping us through the process. She's awesome!!
Michele
TX
April 07, 2023
Buying my first home has always been very intimidating, but Daisy made the process extremely easy. I was extremely impressed by her knowledge and how fast she responded to my many of questions. Even while on vacation, Daisy was reaching out to me to make sure I was staying informed. I am extremely grateful for her assistance and will refer her to anyone looking to buy a home. Thank you again!