Notice of Third-Party MOVEit Data Breach:
A cybersecurity vulnerability with third-party software provider, MOVEit, has impacted thousands of companies, including Guardian Mortgage.
Learn More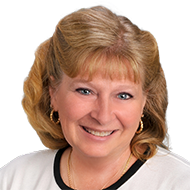 Diana
Molenaar
Mortgage Loan Originator
NMLS# 73865
868 E. Riverside Dr.
Suite 170
Eagle, ID 83616
208.863.1587
[email protected]
Download the My Guardian Mortgage Mobile App


(Opens in a new window)
Diana Molenaar
Diana Molenaar has spent more than 40 years helping individuals and families make their dreams of homeownership a reality. She has underwritten, managed, processed and closed loans for her clients but finds the most joy in originating home loans. As a senior mortgage loan originator at Guardian Mortgage, she works with her team to guide her clients each step of the way.
"I enjoy working with borrowers, solving problems and educating people about the mortgage industry," says Diana. "When I get to help a borrower who thinks they can't purchase a home and we get to closing, THAT feeds my soul."

Diana works to make the home-buying experience easy and stress-free for her clients. She is always there to answer questions and strategize with them for the future.
She also values teaching others about the mortgage industry and serves on the National Education Committee for VAREP (Veterans Association of Real Estate Professionals).
When she is not helping clients purchase a home, Diana works outside on her family elk ranch. Together with her husband, she owns and operates the ranch in Idaho.
My Customers Have Spoken:
Diana is a rockstar, she always goes the extra mile to make stuff happen. Her knowledge was invaluable in checking all the boxes.
Working with Diana Molenaar is always a pleasure. This was our third house we have worked with Diana. She is a true professional and goes above and beyond for her clients.
Diana was very easy to work with and very responsive to all our questions. Having the ability to load all of our information on the portal was straightforward and convenient.
Diana is knowledgeable, and a great communicator .The process of getting the paperwork done was fast and smooth. In addition she informed us each time we completed a milestone. From now on we will use Dianna services for all our loan needs.
Diana is incredible. She truly cares about her clients and spends the time necessary to answer questions and explain the process. I will only use Diana for my mortgage needs. Truly a remarkable loan officer.
Diana Molenaar was fantastic to work with, a very knowledgeable and professional representative of Flagstar Bank who made the process incredibly smooth and easy.