Notice of Third-Party MOVEit Data Breach:
A cybersecurity vulnerability with third-party software provider, MOVEit, has impacted thousands of companies, including Guardian Mortgage.
Learn More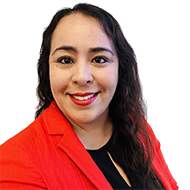 Janet
Flores Castrejon
Mortgage Loan Originator
NMLS# 314031
201 E Main
Suite 200
El Paso, TX 79901
915.240.2021
[email protected]
Download the My Guardian Mortgage Mobile App


(Opens in a new window)
Janet Flores Castrejon
When Janet started her career in the banking industry more than a decade ago, she quickly noticed a need in the mortgage loan field that she could fill. As a bilingual (Spanish) mortgage loan originator, she serves borrowers in her border area community, helping them achieve their goal of owning a new home.
"My job is to make sure clients are well educated about their mortgage process and understand every step of the journey," says Janet. "I'm available to answer questions anytime to ensure clients fully capture all the details of the biggest investment of their lives."
Janet works closely with her team of loan professionals to provide families with competitive loan products. Her team understands that it is a privilege to help families have a home, therefore helping to change their lives. She sees every day as a new beginning and works diligently to make it count.
When she is not working, Janet loves spending time with her most valuable asset, her family. You'll find her supporting her kids at their sporting events, hosting weekend cookouts, and enjoying time with family and friends.
My Customers Have Spoken:
Janet was very helpful during the whole process and answered every question I had.
Gabriel
TX
September 17, 2023
Todo janet me mantuvo inform de todos Los pasos y process y me explicate El porque de todo muchas gracias a todos a janet y su equipo
Blanca
NM
September 16, 2023
Janet did an excellent job, guiding us through the whole process and answering all our questions. She made it possible!
Gustavo
TX
August 07, 2023
every time I have question, she answered promtly, gave me advice when I needed it. it was pleasure to work with her.
Allways kept us updated, we never felt pressured, she did an amazing job, she is great and very professional, Janet my family it's very very grateful for your help. !
Janet Castrejon made all the difference! She made a scary process a easy one!
Janet was always available to answer any questions/concerns that I had within a timely manner. She assisted in helping the loan process effortless.
Clarissa
TX
June 20, 2023
Every help was to the point, giving me the correct way to proceed in this unknown process for me. I thank very much Janet for this great work
Yes, I am proud to say that I was glad and blessed she came through my way to help us out through the process of the house. She is a great person and a beautiful soul. Thank you so much for helping us. Janet Flores 🫶
Through the entire process Janet and the all others she worked with kept good communication and were very professional. It was overall an amazing experience!!