Notice of Third-Party MOVEit Data Breach:
A cybersecurity vulnerability with third-party software provider, MOVEit, has impacted thousands of companies, including Guardian Mortgage.
Learn More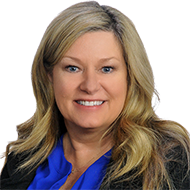 Jill
Kiser
Mortgage Branch Manager
NMLS# 8992
868 E. Riverside Dr.
Suite 170
Eagle, ID 83616
208.890.0379
[email protected]
Download the My Guardian Mortgage Mobile App


(Opens in a new window)
Jill Kiser
Jill Kiser began her career more than 25 years ago as a bank teller. She then worked as a branch operations manager before a friend suggested she move from finance to mortgage. Always up for a challenge, Jill took the leap and has focused on helping people realize their dreams of homeownership ever since.
Jill is no stranger to hard work. She grew up on a family farm and the strong work ethic she acquired through early mornings and farm chores has carried over into everything she does.
"I love helping and supporting people," said Jill. "I'm passionate about making a difference in the lives of my customers and others."
Jill serves as a resource for her customers, providing a go-to person they can depend on for knowledge and advice within the mortgage lending industry. Jill's clients appreciate her hard work, kindness, and giving nature.
When she is not working, you'll find Jill outside. She loves to enjoy the great outdoors with her husband, dogs, kids, and grandkids. Traveling, watching sports, and entertaining family and friends also rank high on Jill's favorites list.
My Customers Have Spoken:
Jill is very knowledgeable and experienced at what she does!
Cindy
ID
October 02, 2023
Jill is a wonderful person to work with, very receptive to questions, and works hard to give you the best experience
Jake
ID
September 10, 2023
Jill is helpful, communicative, patient, and goes above and beyond to help get her clients the best rate and support!
Morgan
ID
September 07, 2023
Jill and Korey did an awesome job from the the very first day we talked to the very final minute of the loan process!! Was a pleasure meeting them and working with both of them.
The knowledge, patience, and customer service that Jill had was just incredible.
Jill was amazing at guiding us through the home buying process! As first time buyers, she offered continuous updates and guidance on next steps in the buying process. She promptly responded to all of our questions, and was a joy to work with.
Jill was extremely helpful during this whole process and answered questions in abundance. I would absolutely recommend her.