Notice of Third-Party MOVEit Data Breach:
A cybersecurity vulnerability with third-party software provider, MOVEit, has impacted thousands of companies, including Guardian Mortgage.
Learn More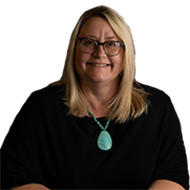 Jolene
Dickey
Mortgage Branch Manager
NMLS# 330825
2155 Louisiana Boulevard NE
Suite 3200
Albuquerque, NM 87110
505.321.9110
[email protected]
Download the My Guardian Mortgage Mobile App


(Opens in a new window)
Jolene Dickey
Jolene Dickey is an accomplished and integrity-driven loan originator with a remarkable track record. She has over 25 years of business success in New Mexico, particularly the vibrant Albuquerque metro area. Jolene is widely recognized as a leader in her field, renowned for her exceptional skills in account building, client management, and customer service relations.

With a deep understanding of the various programs and products offered by the lending industry, Jolene possesses an exceptional ability to navigate through the complexities of the market. Her strong sales skills, combined with her innate leadership talent, enable her to create and expand existing client databases, facilitating the growth of her company's bottom line.

Jolene's philosophy centers around honesty and the unwavering belief that things will work out. This positive mindset, coupled with her commitment to providing exceptional service, has earned her the trust and loyalty of countless clients. Jolene takes pride in building genuine relationships and helping individuals achieve their financial goals.

Outside of her professional endeavors, Jolene finds solace in working on her yard, embracing the beauty of nature through invigorating walks, and cherishing precious moments spent with her beloved grand daughter. Her passion for outdoor activities reflects her vibrant and adventurous spirit, which translates into her approach to lending—always seeking creative and personalized solutions to meet the unique needs of her clients.

With Jolene Dickey as your loan originator, you can be assured of her dedication to guiding you through the loan process with expertise, integrity, and a friendly demeanor. Whether you're a first-time homebuyer or a seasoned investor, Jolene is ready to leverage her vast experience and unwavering commitment to help you achieve your financial dreams.
My Customers Have Spoken:
Ishe made me comfortable to be open with her and ask questions and learn along side the process if I needed. I enjoyed being able to reach her any time I needed her.
Billie
NM
September 23, 2023
Jolene was very helpful throughout the process. Fast response time. Great communication.
Tyler
NM
September 16, 2023
Kept us informed throughout the process
Jolene is so friendly, knowledgeable, and accommodating. We could not have gotten our first home without her expertise and commitment. I will always be thankful!
Jolene was very helpful and responsive.
Jolene was spot on!!! Great customer service. I will definitely refer anyone looking to purchase a home to her.
She was able to get us into are first house and other lenders could not even come close she does her job great and takes alot of pride in what she does and hard at it to making a great achievement become a dream come true thanks you so much Jolene dicky for everything again so happy 😊
Jolene made this process so easy for us. She was professional, attentive, helpful and kind every step of the way.
Pammela
AZ
March 24, 2023
Competence and professional