Notice of Third-Party MOVEit Data Breach:
A cybersecurity vulnerability with third-party software provider, MOVEit, has impacted thousands of companies, including Guardian Mortgage.
Learn More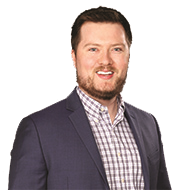 Jordan
Jarvis
Mortgage Loan Originator
NMLS# 1663052
239 W. Main Avenue
Suite 100
Spokane, WA 99201
509.999.2672
[email protected]
Download the My Guardian Mortgage Mobile App


(Opens in a new window)
Jordan Jarvis
Ask Jordan Jarvis why he loves being a mortgage originator and he'll tell you, "Guardian is a long-standing company with a great reputation. In my work here, I'm able to combine my desire to serve and to teach with innovative loan products that are designed to help families achieve their dreams of homeownership – I get to do things that I think are important and enjoyable." Jordan is energized by the opportunity to treat others as he would like to be treated and to play a part in helping clients make smart decisions to achieve their goals of home financing.
Jordan delivers intentional, honest communications and responsive, on-time service. His customers trust him as an advisor, and he's pleased to have many referrals from satisfied clients. One of Jordan's favorite quotes is from Thomas Aquinas: "The things that we love tell us what we are." When he's not working, Jordan enjoys making music on the piano or ukulele, playing basketball, building things with friends, backpacking and camping, serving at his church, and nearly anything related to Star Wars or The Lord of the Rings.
My Customers Have Spoken:
always accessible, friendly and explaining all my doubts
Fast, timely, accurate, responsive
Moving from Italy has its own challenges, buying a house from halfway across the world even more. Jordan made this process so easy. He was very accommodating to the time differences, responsive, and well versed in mortgage lending. This was my third time using a VA loan, I felt like I knew what I needed - that didn't stop Jordan from ensuring I was equipped with all the information my family needed to make this big financial decision. He is a great person, and glad I chose Jordan with Guardian!
"In my time working in the real estate industry in Spokane, I have worked with several mortgage lenders. I have to say, working with Jordan Jarvis has been an absolute pleasure. Him and his team are incredibly knowledgeable and experienced, and they have a deep understanding of the Spokane housing market. This has made it easy for me to recommend him to my clients, knowing that he will be getting the best possible advice and guidance. Jordan is also highly communicative, keeping me in the loop at every step of the mortgage process. This level of transparency has made my job as a real estate agent much easier, as I am able to provide my clients with up-to-date information on their mortgage status. Perhaps most importantly, Jordan is always willing to go the extra mile to ensure that his clients are happy and satisfied with the mortgage process. He truly cares about his clients and works tirelessly to find the right mortgage solution for each individual's unique needs. Overall, I would highly recommend Jordan to any real estate agent or buyers looking for a reliable, knowledgeable, and client-focused mortgage lender in Spokane. He is a true pleasure to work with, and I look forward to continuing working together in the future.
Jordan was very knowledgeable, there are a lot of confusing information going into this process and he made it a little easier at times.
Renee
WA
February 28, 2023
Jordan and his team did an amazing job of communicating with me throughout the entire process! He was easy to get ahold of and I knew that I could reach out to them anytime. The entire process was completed efficiently and quickly. I will highly recommend Jordan to others!
Clara
WA
February 02, 2023
Jordan was great at communication and answered all my questions thoroughly throughout the whole loan process. He was easily available and quick to get estimates and answer questions when needed.
The appraisal portion delayed things unnecessarily. Cost both parties time and money. Jordan worked and communicated very well. Without him this process would have been not "ok"
Michelle
WA
August 01, 2022
Jordan had a very personable attitude throughout the experience. He was easy to learn from and as a result, easy to trust. The only thing I wish is that I could have met him in person!
Chandler
WA
July 30, 2022
Jordan answered all of my questions and was good at communicating with me throughout the whole process. He went into a lot of detail and made sure I understood everything.