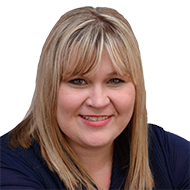 Maxine
Kary
Mortgage Loan Originator
NMLS# 1468634
25 E Ken Pratt Blvd.
Longmont, CO 80501
970.302.0048
[email protected]
Download the My Guardian Mortgage Mobile App


(Opens in a new window)
Maxine Kary
Maxine Kary joined Guardian Mortgage in 2017 as a Colorado Mortgage Loan Originator at our Longmont office. Maxine began her career in the banking industry in 1997 and has been originating mortgage loans for more than eight years.
Maxine's passion for building relationships with her clients and assisting them with obtaining their financial goals have made her a successful loan originator. She says, "I enjoy when I can create solutions to problems and get people into the home of their dreams. I pride myself on getting to know my borrowers and building life-long relationships and friendships with them." Maxine joined Guardian because of the extensive support staff, the competitive loan products, and the company culture.
When she is not working, Maxine enjoys gardening, spending time with her two growing boys and supporting all their hobbies and interests.
My Customers Have Spoken:
The attention to detail. The personal touch from Maxine shows that she really cares about her clients!!
James
CO
November 28, 2023
Maxine is great! She is amazing at her job and is very personable. I very much enjoyed working with her.
Tehra
CO
November 27, 2023
This was our first house purchase and there was a lot I didn't know about the process. Maxine took the time to explain everything and dealing with my anxiety because of these unfamiliar situations. 1000% would I recommend maxine and already have dropped her name to co workers
Joseph
CO
November 26, 2023
Maxine and her team went out of their way to keeping me informed during the refi process. Kudos all the way around to Maxine,Summer and Amy. Thank you
Epimenio
CO
October 28, 2023
Very friendly and responsive!
Thomas
MT
October 07, 2023
Good communication, moved things on quickly
Consistent communication.
Victoria
CO
August 04, 2023
Great communication, friendly service, knowledgeable and understanding. Willing to work to make things possible. Maxine is awesome!!
Documents I was asked to sign with many errors, made me nervous. Even the closing documents had numerous errors. Took my time reviewing the 75 pages, and even at closing while signing noticed another error. Disconcerting. But in the end got what I needed. Thanks.
Maxine was completely honest, up front and transparent about all of our concerns, and we had a lot b/c we are just a bit crazy when it comes to borrowing money. She made the entire process easy with no stress at all and that's the first time we have been able to say that out of all of our experiences. Thank you Maxine, we LOVE you!