Notice of Third-Party MOVEit Data Breach:
A cybersecurity vulnerability with third-party software provider, MOVEit, has impacted thousands of companies, including Guardian Mortgage.
Learn More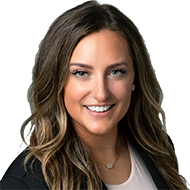 Michaela
Slanchik
Mortgage Loan Originator Specialist
NMLS# 2052160
2073 N. Webb Road
Wichita, KS 67206
316.369.0059
[email protected]
Download the My Guardian Mortgage Mobile App


(Opens in a new window)
Michaela Slanchik
From first-time buyers to those searching for a forever home, Michaela Slanchik loves finding buyers the best loan option to meet their needs.
Michaela's affinity for banking began in high school when she worked as a bank teller and member service representative. After serving in the Air Force for six years, she knew she wanted to rejoin the financial industry and help people achieve their dreams through financing.
Michaela's husband enjoys a career as a realtor. So, becoming a loan originator seemed like the perfect fit. Over the years, she's fallen in love with helping borrowers finance their new homes.
"As an Air Force veteran, myself, I am passionate about helping veterans capitalize on the VA home loan benefit," Michaela says. "I also enjoy helping first-time home buyers leave the rental market for a home of their own."
She understands that buying a home is one of life's biggest purchases and works closely with buyers every step of the way, providing education and guidance.
When she's not working, Michaela enjoys spending time with her two dogs, golfing with her husband and getting creative in the kitchen.
My Customers Have Spoken:
Michaela was amazing, she took very well care of me and my husband throughout the loan process. She kept us updated in everything, and answered all questions that we had. Overall just made the process stress free. We are very blessed to have worked with Michaela, she will forever be apart of our lives.
Bridget
KS
September 24, 2023
Caring, and very professional when handling things for me and my wife.
Tobias
KS
September 24, 2023
Michaela was so easy to talk to and would explain everything in detail. She would always answer her phone, text message or voicemails within minutes. She went over and beyond to make buying a house a great experience. I would recommend her to anyone looking to buy a home.
Michaela was helpful and easy to contact. She always helped when we asked. We did not get the grant we applied for which was a bummer but she was helpful none-the-less.
Michelle
KS
July 05, 2023
Michaela was always in communication and helpful no matter how simple the question. This was our first home purchase experience and I'm so glad we found her!
I really appreciated how helpful Michaela was through out the whole process. She was always ready to answer any questions we had no matter the time. She made the whole process so much easier.
Michaela was so knowledgeable and had an answer for every one of my million questions. She gets 10/10 on her customer service
The whole service top to bottom great job !!!
Although the email communication was helpful, and I appreciated the regularity of it there just seemed to be an abundance of "urgent, act now to keep your loan moving forward" messages that I could not do anything about at work. It seemed like a few of those items might be addressed as part of the loan application or obtained through processing. I really missed a bit more personal touch through phone, email or text when my loan was officially approved as this is the ultimate goal that leads to closing. In person I genuinely liked Michaela and appreciated her help. The processing system is intense, impersonal and seems to require more customer doing the work than I expected, but I have not bought a home in a while so my expectations may not be up to speed.
We enjoyed working with Michaela! She did a great job keeping us in the loop.
Gabriela
KS
June 04, 2023