Notice of Third-Party MOVEit Data Breach:
A cybersecurity vulnerability with third-party software provider, MOVEit, has impacted thousands of companies, including Guardian Mortgage.
Learn More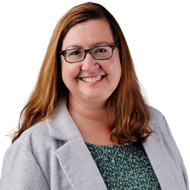 Michelle
Fales
Mortgage Loan Originator
NMLS# 780009
4831 Quail Crest Place
Lawrence, KS 66049
785.331.7589
[email protected]
Download the My Guardian Mortgage Mobile App


(Opens in a new window)
Michelle Fales
Michelle Fales is passionate about finance. She brings more than 30 years of experience to her clients, having helped them gain a variety of loans. Michelle has worked with individuals and families to secure everything from student and business loans to car and personal loans. Her favorite type of loans are home and construction loans. She's spent more than 20 years in the mortgage loan industry.
"I love helping people," says Michelle. "Whether it's helping someone build their home, buy their home, or work on getting into the position for home ownership, it inspires me."
Michelle's clients and team appreciate her high energy, work ethic and willingness to help anyone achieve their goals and learn. She is always available to assist her customers and enjoys using her experience and passion to help them fulfill their dreams of home ownership.
In her spare time, she enjoys spending time with her husband, dogs and friends. You'll often find her volunteering, traveling, reading and solving crossword puzzles.
My Customers Have Spoken:
Michelle walked me through every step of the process. Even when things did not seem to be moving in the right direction, she was there reassuring me that we would accomplish my goals. She went above and beyond keeping me in the loop and calm throughout the volatility of interest rates, government regulations, and the stress of making such a major decision in my life. She truly made me feel comfortable and that I was important.
Paula
KS
September 20, 2023
Michelle provide her time and skills in a way that made me feel supported. She helped me navigate challenging hurdles during the process. My confidence was boosted due to the engagement and research she put into making my dream a reality.
Carleen
KS
August 01, 2023
Michelle was always willing to answer questions, and helped us set realistic expectations for how the prices would unfold. Highly recommended!
Working with Michelle was truly amazing. She was there for every question I had, very communicative, incredibly helpful, and very personable. I was updated on the process every step of the way via both Guardian's app and via email, which was very nice. In a day like today when genuine connection is becoming hard to find, the amazing staff at both Sunflower Bank and Guardian Mortgage made me truly feel like they had my best interest in mind and that they truly cared. It meant the world to me. Thank you so much!
Michelle was great at keeping us in the loop the whole way!
Michelle was extremely helpful
Michelle works tirelessly to give the best service possible!
Good communication. Extraordinary effort to facilitate a quick closing.
Michelle went above and beyond every step of the way. Her expertise and personal touch was invaluable and I would recommend her to anyone!
So thankful to Michelle Fales to help us to get approved to buy our first home she was wonderful