Notice of Third-Party MOVEit Data Breach:
A cybersecurity vulnerability with third-party software provider, MOVEit, has impacted thousands of companies, including Guardian Mortgage.
Learn More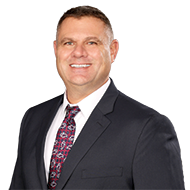 Mickey
Perry
Mortgage Loan Originator
NMLS# 1955887
239 W. Main Avenue
Spokane, WA 99201
509.435.3342
[email protected]
Download the My Guardian Mortgage Mobile App


(Opens in a new window)
Mickey Perry
Mickey Perry knows that clients have many choices when it comes to loan originators, but he can provide something that's harder to come by— heart. He truly cares about every customer, delivering unforgettable service of the highest quality. Mickey takes his time with clients and guides each one through finding a mortgage program that best fits their needs.
He says, "The Guardian Mortgage family is made up of genuine people who are looking to provide the best service and loans for their clients. Because we are so people-driven, we are able to do what other companies can't. We make our clients feel listened to and cared for." Mickey continues, "I work my hardest to provide home financing solutions so that families can feel safe. The best part of my job is being able to provide that security."
When he's not at the office, Mickey enjoys spending time with his family and two daughters (especially outside on the boat), playing sports, and just goofing around. Mickey adds, "Oh, and I can't forget about my best friend, Weston, the golden retriever… he goes everywhere with me."
My Customers Have Spoken:
He was always available and was able to answer my questions when problems arose.
Monica
GA
September 24, 2023
I worked with Mickey in June of last year to buy my primary residence, I had such an easy and amazing experience with that, that I immediately came to Mickey when it came time to do a cash out refi for my rental property. There wasn't one thing that went wrong, and Mickey personally kept me informed. I'm sorry to say, I don't have any more houses to work with!!
Bridget
WA
September 03, 2023
Mickey was hands down the best loan officer we have worked with! We had been told by four other loan officers that we could not make the numbers work on a loan with the downpayment size we had and the amount of mortgage we wanted. Mickey got creative and, within a day, had a pre-qualification to us. Throughout the process, Mickey was amazing at communicating where we were in the process, what we needed to do, what he was doing, and what was coming next. There were a couple of snags we ran into throughout the process (none of which had anything to do with Mickey or his team). Mickey always encouraged us and kept us optimistic and excited about buying a home. We ended up buying new construction. The builders really drug their feet up until the last minutes before closing. We received the final appraisal late Thursday night when we were supposed to go sign closing docs the next morning. Mickey worked into the night and early the next morning to make sure we got into our house on that Friday. It's refreshing to work with someone who goes above and beyond to help their customer have an amazing experience. You don't see that very often anymore! I plan on recommending Mickey to anyone I talk to that is interested in buying a home. I know they will be in great hands!
Allison
ID
August 01, 2023
The process was explained well by a professional and made sure all my questions were answered in a timely manner. Great experience would recommend Mickey.
I had an amazing experience working with Mickey! His expertise, communication, and attention to detail made the process effortless and stress-free. From start to finish, he provided exceptional service and he got me the best rate! I highly recommend his services to anyone seeking a smooth refinance experience. Thank you for your outstanding support!
Quick n easy
Christopher
MO
June 10, 2023
Mickey was responsive and communicated effectively during the transaction. Very positive experience !
Thanks, Mickey! You were great, your team was great. It's a lot required from everyone to make it happen, but I appreciate that we got it done in time for a 30 day close.
Mickey was so incredibly helpful throughout the entire process. He always got back to us quickly and had clear answers for every question we had. He was able to get us an excellent rate AND was the very first person to congratulate us on our closing! I cannot recommend Mickey highly enough.
How fast closing was, and the amount of communication between everyone.