Notice of Third-Party MOVEit Data Breach:
A cybersecurity vulnerability with third-party software provider, MOVEit, has impacted thousands of companies, including Guardian Mortgage.
Learn More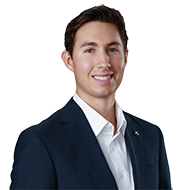 Nick
Gutierrez
Mortgage Loan Originator
NMLS# 1858999
5090 N. 40th Street,
Suite 100
Phoenix, AZ 85018
253.279.5669
[email protected]
Download the My Guardian Mortgage Mobile App


(Opens in a new window)
Nick Gutierrez
Nick Gutierrez was led to the home loan and mortgage industry after seeing friends and family succeed in the space.
Graduating in 2018 from Washington State University, Nick knew his skill set would lead to success in the mortgage industry. As a people- person, Nick likes the client-relationship aspect of the business and has a "passion for helping clients fulfill their goals," he says.
Nick knows securing a home loan can be stressful, so he aims to make the process as smooth and seamless as possible for clients. He treats each client as he would a friend or a family member, using open communication to make them feel confident in their decisions.

When he's not working, you can find Nick playing golf, basketball, or spending time with his fiancé, Bre, and their dog, Nala. Reach out to Nick for your home loan needs.
My Customers Have Spoken:
The communication was fantastic. I knew the status of my loan every step of the way, and knew exactly what was expected of me. Nick was incredible to work with, highly satisfied and highly recommended!
Douglas
NV
September 09, 2023
Nick was always on top of everything. Always communicate what was needed. Very professional and guided us through the whole process. I will definitely recommend him to my friends and family.
Nick Gutierrez was an amazing Loan Officer. Nick made sure we always felt supported and heard. He guided us threw the entire process, providing us power points, emails, updates, explanations and always made sure we understood every step of the way. 10/10 and Thank you
Nick was so great at checking in throughout the entire process, even before I found a home to see where he could help out in the process. Once I started the loan process, he was always a call away, and kept you updated with each milestone you completed, and what was next through the Guardian portal and text messages on where you were, and what was next. I never felt like I needed to call him to ask where am I in the process, because before I could he would send me updates. I always felt informed and in the loop.
Nick was awesome he helped me all the way
Working with Nick was a pleasure, he is very polite, smart, knowledgeable and very patient. He answered all my questions. As a first time home buyer, he guide me thru the whole process and told me what to expect and was always available when I had questions. I recommend Nick to anyone who is looking for a home loan.
Nick, was very helpful through out the process, any questions I had he would answer in a timely manner. He was honest and nice. I highly recommend him. Thank you so much Nick!
Nick was wonderful through the process i am a first time home buyer..he made sure I understood the process all the way through..
Good communication, amicable gesture and professionalism. He was patient enough to handle a new buyer's unlimited and sometime not logical queries and was transparent throughput the process. I was able to reach him anytime, sometimes even in off hours. It's not on Nick but for the company that they are less competitive. With lender's credit included, they could only offer the rate, what some other lenders were offering without credit.
Barhamdev
AZ
February 03, 2023
As first time home buyers, we wanted to explore different scenarios and had a lot of questions around the loan process. Nick would offer different information and scenarios for us, as well as make himself available through texts, phone calls and e-mails, which we really appreciated. Nick was extremely helpful, knowledgeable, and transparent with us throughout the entire loan process. We would highly recommend to use Nick and Guardian Mortgage for your home buying needs if you're wanting to be in great hands and have an overall smooth home purchase.
Brett
AZ
January 17, 2023