Notice of Third-Party MOVEit Data Breach:
A cybersecurity vulnerability with third-party software provider, MOVEit, has impacted thousands of companies, including Guardian Mortgage.
Learn More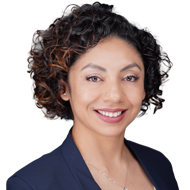 Pearl
Cook
Mortgage Loan Originator
NMLS# 2138331
9601 McAllister Freeway
Suite 1105
San Antonio, TX 78216
850.240.4330
[email protected]
Download the My Guardian Mortgage Mobile App


(Opens in a new window)
Pearl Cook
Pearl brings a unique perspective to the industry; as a 20-year Air Force veteran, having served our country with honor and distinction, she understands the value of hard work, discipline, and attention to detail. These qualities have translated seamlessly into her work in the mortgage industry, where precision and efficiency are paramount.
But beyond the numbers and figures, what really sets her apart is her genuine interest in people. Pearl loves to hear people's stories and be a small part of their journey toward homeownership. Whether it's a first-time homebuyer or someone refinancing their mortgage, she takes the time to listen, understand, and guide them through the process.
With Pearl on your side, you can rest assured that you will receive personalized attention and expert advice. Pearl is committed to helping you achieve your homeownership goals and making your dreams a reality.