Notice of Third-Party MOVEit Data Breach:
A cybersecurity vulnerability with third-party software provider, MOVEit, has impacted thousands of companies, including Guardian Mortgage.
Learn More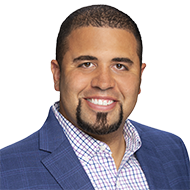 Preston
Jones
Mortgage Loan Originator
NMLS# 2012137
9601 McAllister Freeway, Suite 1105
San Antonio, TX 78216
210.683.1921
[email protected]
Download the My Guardian Mortgage Mobile App


(Opens in a new window)
Preston Jones
Coaching plays a major role in mortgage loan originator Preston Jones' life. After spending more than 11 years as a basketball coach, he now coaches homebuyers through the mortgage loan process.
Preston brings a hard-working, positive attitude to all that he does and uses his skills to help as many families as he can become homeowners. His clients appreciate his positive and uplifting personality as he guides them to the goal of home ownership.
"I have open lines of communication with my clients," says Preston. "I stay with them throughout the process to keep them informed until we get to the finish line."
With a motto of "you have to hate losing more than you enjoy winning," Preston works to provide great service and competitive rates to get clients into the home of their dreams. Anything less is losing in his book.
When he is not working, Preston enjoys hanging out with his family, coaching his kids and playing sports.
My Customers Have Spoken:
Preston is wonderful to work with. We have now worked with him for three separate transactions and he's been incredible through each one.
Marissa
FL
September 01, 2023
He was very informative, and straight to the point. We received sound advice and the professionalism from his team was outstanding.
Preston is outstanding! We felt very comfortable and communicated with every step of the way. Thank you, Guardian Team!
Christian
TX
April 10, 2023