Notice of Third-Party MOVEit Data Breach:
A cybersecurity vulnerability with third-party software provider, MOVEit, has impacted thousands of companies, including Guardian Mortgage.
Learn More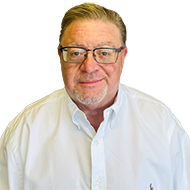 Steve
Jungbluth
Mortgage Loan Originator
NMLS# 214027
2155 Louisiana Boulevard NE
Ste. 3200
Albuquerque, NM 87110
505.280.5779
[email protected]
Download the My Guardian Mortgage Mobile App


(Opens in a new window)
Steve Jungbluth
With a love for numbers and a passion for helping first-time buyers, Steve Jungbluth was born to work in the mortgage industry. After obtaining an MBA in finance and undergraduate degrees in marketing and economics, Steve found his calling in mortgage lending. He feels blessed to have worked in the industry for over 20 years.
"This is my life calling," says Steve. "It brings me great joy and satisfaction to assist buyers in homeownership or consolidating debt through a refinance."
Steve's goal is to ensure that when customers get to closing there are no remaining questions or insecurities about the loan. He takes a hands-on approach with every borrower he has the honor of working with, meeting with them face-to-face or chatting via their preferred methods. Steve never fails to answer his phone or customer's questions.
When he is not working with clients or his Guardian Mortgage team, you'll find Steve watching the Dallas Cowboys and spending time with his children and grandchildren.
My Customers Have Spoken:
Steve was a great guy and a pleasure to work with.
Colin
NM
September 01, 2023
Steve is amazing! He is so caring, and knowledgable. He is willing to work and help you in any way he can. He is there for you any time of day. Steve made this experience just super easy and wonderful.
Lizette
NM
August 03, 2023
I specifically asked that Daniel Pangborn be put on the warranty deed. Thus did not happen! And somehow the service finance balance of about 15K go rolled over to West Reinken and now I have to wait for the title company to clear the already paid funds to release funds to me. Not happy about this at all
The level of care and attention to detail demonstrated by Steve far surpassed my expectations. I really appreciated his honesty and transparency throughout the mortgage process. Steve stays on top of every detail and is there for you every step of the way to answer any questions and address any concerns.
Steve is an amazing loan officer! Very personable, and went above and beyond to help us with our loan. He loved teaching us how the process works and walked us through all of the steps. We are so grateful we had him as our loan officer!
Steve was incredibly supportive and helpful through the process. This was our first home and he made the loan process simple. He answered all of our questions and was very responsive.
Steve did a great job. He was communicative, prompt with responses, and helped us plan to stay solidly in (even below) our budget. If we ever need to get a mortgage again, we hope to work with Steve!
Steve was great and is a fighter he knew the fight we were gonna have with this house with the passing of my grandfather and he took the challenge with us and never stop fighting thank you Steve my family and me couldn't be any more grateful 🙏
Awesome, I really feel taken care of!
Melinda
NM
March 05, 2023
This is the second home I have purchased with Steve and I both times had excellent service. I highly recommend Steve and the team at Guardian.