Notice of Third-Party MOVEit Data Breach:
A cybersecurity vulnerability with third-party software provider, MOVEit, has impacted thousands of companies, including Guardian Mortgage.
Learn More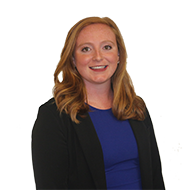 Whitley
Stout
CRA Mortgage Loan Originator
NMLS# 1885423
5001 South Cooper Street
Suite 206
Arlington, TX 76017
817.550.2964
[email protected]
Download the My Guardian Mortgage Mobile App


(Opens in a new window)
Whitley Stout
Whitley Stout brings knowledge, determination, and a passion for client satisfaction to her role as Mortgage Loan Originator. She began her career with Guardian Mortgage as a summer intern for several years before graduating from the University of Tulsa with degrees in Management and Psychology and is excited to share her skills and enthusiasm with clients.
Her background in loan administration reinforces Whitley's belief in the value that Guardian's servicing brings to borrowers. She guides them through choosing a mortgage that's not just right for the moment, but for the future too. She says, "I love being able to help customers figure out their home financing goals. Many people have a dream to purchase a home or increase their wealth through property ownership, and I can help them get there."
One of Whitley's favorite quotes is, "Every champion was once a contender that refused to give up." She says, "I like this quote because it reflects that the mortgage process – like life—is not only about the end. It is also about the journey. Working beside my father has been a dream of mine and I'm thrilled to be part of such a great team." Outside the office, Whitley loves volunteering. She also watches and plays volleyball, tennis, softball and flag football.
My Customers Have Spoken:
Attentive, quick to respond with any questions I had.
Whitley was always there whenever I had a question and she was able to get all the paperwork completed super quickly. She made the whole process SUPER easy!
Whitely was amazing! So glad to have her in our corner during this process. She was available and ready to answer all of our questions.
Emily
TX
February 22, 2023
She was very friendly and on top of every deadline/complete date. Very smart and easy to work with. Felt entirely comfortable working with her.
Joshua
TX
February 18, 2023